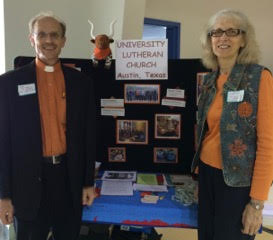 Richard Mittwede

Campus Pastor
(512) 461-3425
richard@ulcaustin.com

Marcia Mittwede

Director of International Student Ministry
marcia@ulcaustin.com

Pastor Richard Mittwede is a native Texan.  He served 10 years in the United States Marine Corps.  He graduated from Concordia University as a Lay Minister and served 16 years as a Youth Minister in the Chicago area, Lansing, Michigan and St. Louis, Missouri.  He graduated from Concordia Seminary, St. Louis in 2008 and served as Associate Pastor in Round Rock, Texas.  He took a call to serve University Lutheran Church in 2014.

He and Marcia have been married since 1992.  They have a cat named Punkee.  Pastor Mittwede enjoys distance running, weight lifting, coaching high school running, playing the trombone, cheetahs, and collecting and listening to music.   Richard and Marcia enjoy travelling, visiting zoos and taking walks together.
ULC Council
President:  Nathan Schwausch
Vice President:  Gabbie Ommen
Secretary:  Katie Horstman
Treasurer:  Morgan Young
At large:   Luke Anderson