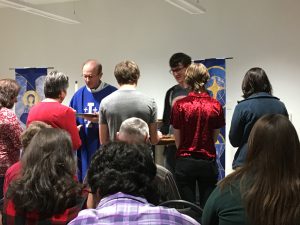 University Lutheran Church (ULC) is a campus ministry of the Lutheran Church-Missouri Synod (LCMS) to the University of Texas at Austin. College students face many personal challenges of stress, pressure and expectations of the academic world. Students are also imperfect, broken sinners and need the life-giving gifts of Jesus Christ.
ULC seeks to be a place where students can find relief from the world, gather with others to hear the Good News of Jesus and receive the forgiveness of their sins. In the proclaiming of God's Word and in the Sacraments of baptism and the Lord's Supper, ULC offers comfort in the life-giving gifts of God.
College is tough. You need Jesus. ULC can help.
ULC also has an International Student Ministry, which aids international students in adapting to the English Language and American culture. This ministry offers English conversation classes, and Bible studies in easy English.
Our worship services are centered on what Jesus Christ has done and continues to do for us. For those properly instructed, Communion is also served. All are welcome, regardless of religious beliefs and affiliation, to come and hear this great message. Worship is at 5 p.m Sunday evenings. Dinner for a dollar provided after the service each week! ULC is in the University House apartments building, 2100 San Antonio. It's at the corner of San Antonio and 21st Street, Suite 110 facing 21st Street. Street parking is free on Sundays, but we have parking available in our parking garage. Contact Pastor Richard for more info.
For information on the LCMS, check out lcms.org
Curious about other LCMS College Outreach programs? Check out lcms.org/lcmsu